The State of Global Air report is an annually updated peer-reviewed document providing the most up to date information possible on global air quality and its health effects. The report includes a discussion of how air quality is measured, the health effects of the parameters, and analysis of the data in terms of health risk and sociodemographics. This article serves to provide an overview of their work and call attention to some of their interactive resources to view the data.
How do we measure air quality?
State of the Global Air report is produced by the Health Effects Institute and the Institute for Health Metrics and Evaluation through the Global Burden of Disease project. Total air quality is divided into two categories; ambient air quality and indoor air quality. The parameters for ambient air quality are fine particulate matter (PM2.5), solid and liquid aerosols which are less than 2.5 micrometres in diameter, and tropospheric ozone. For a size comparison of fine particulate matter see Figure 1. Whereas indoor air quality is measured by the number of homes using solid fuels such as coal, wood, and biomass for cooking. However, these are not mutually exclusive as it is estimated that 21-31% of ambient PM2.5 comes from the use of solid fuels in homes. For more information on how air quality is measured visit their How clean is your air? page.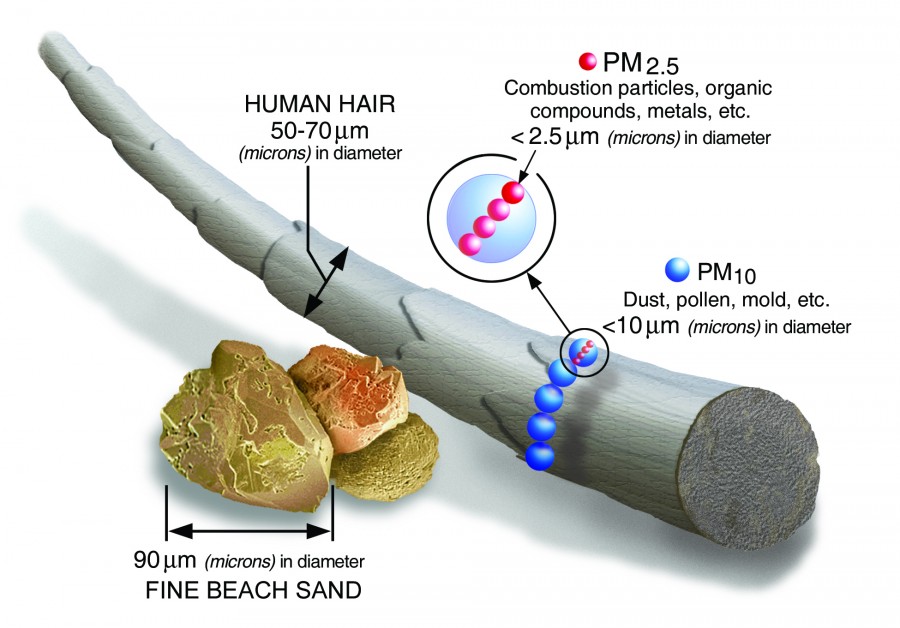 What is the Health Risk of Poor Air Quality?
Health effects of poor air quality
ischaemic heart disease

chronic obstructive pulmonary disorder

lung infection

lung cancer

Stroke

In 2017

4.9 million deaths

1 year 8 months of healthy life lost per person or 147 million years of healthy life
The above data has led to air pollution being declared the fifth largest risk factor for death as seen in Figure 2. For more information on the health effects of air quality, visit their What is the impact on your health? Page. For more detailed coverage on life expectancy and point, sources check out the drop-down menu of the same name as the previously indicated link.
Sociodemographic Trends of Air Quality
Particulate Matter
Another aspect of the report is a study of the sociodemographic trends basing levels of development on income levels, education attained, and fertility rates. This is most important for PM2.5 as it was found that less developed countries suffer 4-5 times worse levels as can be seen in Figure 3. This is due to less regulation on industry and vehicles, high vehicle use due to high population concentrations, and the use of solid fuels for cooking.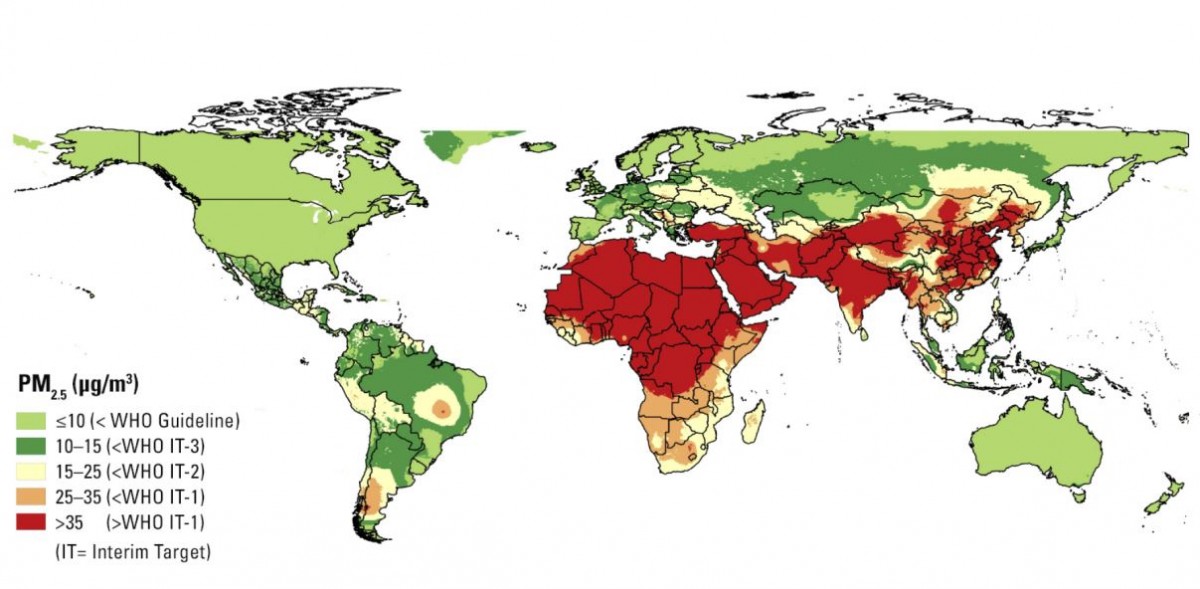 Ozone
Whereas ozone is still high even in developed countries, as seen in Figure 4., largely due to precursors to ozone being common industrial pollutants. For this reason, rapidly developing economies often means a steady increase in ozone.
Indoor Solid Fuel Use
Indoor air quality is negligible in developed countries and varies greatly in developing countries as seen in Figure 5. In some countries, such as South Sudan, 99% percent of the countries population still use solid fuels for cooking. However global solid fuel use for cooking has dropped from 57% to 47% between 2005 and 2017 largely due to the governments of China and India pushing for the use of natural gas and liquified petroleum gas respectively.
The report also included an analysis of burden based on age group which is largely shifting towards older demographics. However, indoor air quality actually has a larger burden on young children as they are more often in the home.
State of the Global Air Interactive Resources
To interact more with their data and investigate air quality and its health effects in your country visit their Explore the data tab. This lets you investigate all three air quality parameters, as well as their health impact by country either in the form of a plot, map, or table. Once a country is selected, you can choose multiple other countries or regions in order to compare their data. An example plot can be seen in Figure 6.